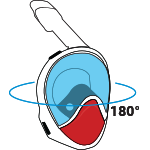 180° Panoramic Field of Vision
The AquaMask lens has been designed and refined to allow for optimal undistorted visibility and maximum field of vision.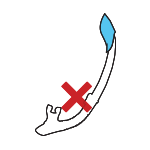 Full mask for natural breathing through the nose and/or mouth.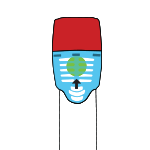 The "Dry Top" snorkel system limits water entry through the top of the snorkel.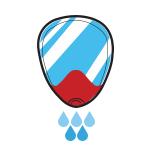 Purge valve at the bottom of the mask to drain water when the head is raised.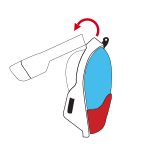 Super LARGE & LONGER breathing tube. The new breathing tube is foldable, making it much easier to install and store.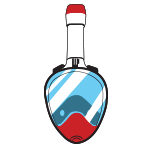 With AquaMask, fogging is reduced by 90%. An exclusive air circulation concept that prevents the formation of fog.

* The mask works best in a water temperature between 18-45 degree celsius. If the water is really cold, there is a chance it could fog up as the body temperature is way too different to the water temperature. To solve this problem, you have to adjust the strap to make sure the mask is well sealed. Breathing slowly through your nose helps reduce chances of fogging. We always suggest our customer to try this trick.Mix 3 portion of water with 1 portion of baby shampoo in a small spray bottle and spray to the vision area on the inside of the mask, then leave it on before using.